Discover more from Aaron Calvin | Ways of Eating
A weekly newsletter about necessity and desire.
Beef cheek tacos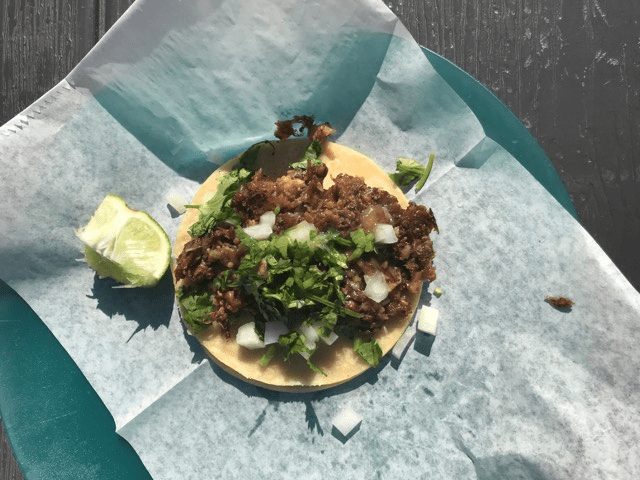 It's been one of this intense and strange week and since it's the holidays, that can only mean that it's swinging into an even stranger, more intense week.
This weekend, a story I worked on at the end of October that began to be about a general analysis of the delayed reaction food truck trend that developed in the city around 2015. What it ended up being was more of a meditation on the taco trucks that can be found around Des Moines' east and south sides. The good and hard working people at The Iowa Informer let me write it how it needed to be written. These areas are often looked down upon and blighted and economically undeveloped by the western suburbs and the status, revitalization hungry downtown, but culinary innovation and celebration of tradition food in the realm of mobile, accessible eating has been going on in this community long before the current trend of food trucks showed up on the scene with their venture funding, trying to repackage the endless, monotonous, new American cuisine.
As noted in the piece, many of the new trucks have succumbed to the gravitational pull of the western suburbs, posting up outside of any of the many breweries and beer halls that are eager to find an easy way to feed customers without the overhead of a kitchen. The city council that dragged their feet on even allowing food trucks downtown created an environment that was never going to be sustainable for food trucks to operate in, just as the general infrastructure of the downtown area, with the millions of dollars sunk into a rehabilitation that lurches toward some kind of uncertain modernization in attempt to please a nebulous and precarious "creative middle class."
There were many people in this article who I wish I could have written more on and deserve their own profile and celebration. One person in particular, Teodoro, runs a taco truck on the south side. We spoke together for a long time and his story encapsulates so much of what is important about the taco trucks to a class of people neglected and ignored by the communities who shape the power structures of the city. A man who worked hard doing punishing manual labor his entire life, the taco truck is the source of his precarious, late in life livelihood. He would like to retire soon, deserves too, and hopefully will. For Teodoro and his wife, their taco truck is a source of autonomy and self determination at the end of a life in the American labor system that has consistently undervalued them.
I sampled a lot of good food while writing this article, from some wonderfully seasoned lengua tacos to a revelatory gordita on a corn tortilla with pork chicharron and salsa verde at Gorditos Las Tios on south 14th. My favorite had to be the cheek meat taco at Salvador's Taqueria Jarez. A supple glomming of soft meat pulled away from an animal's most tender anatomy, garnished simply with cilantro, chopped onion, and a wedge of lime, all bound in a fresh corn tortilla. At $2 a taco, it simply can't be beat.
Make your Thanksgiving holiday as enjoyable as possible, stop a random taco truck on the side of the road that you've never been to before, and be well.