Discover more from Aaron Calvin | Ways of Eating
A weekly newsletter about necessity and desire.
Wingz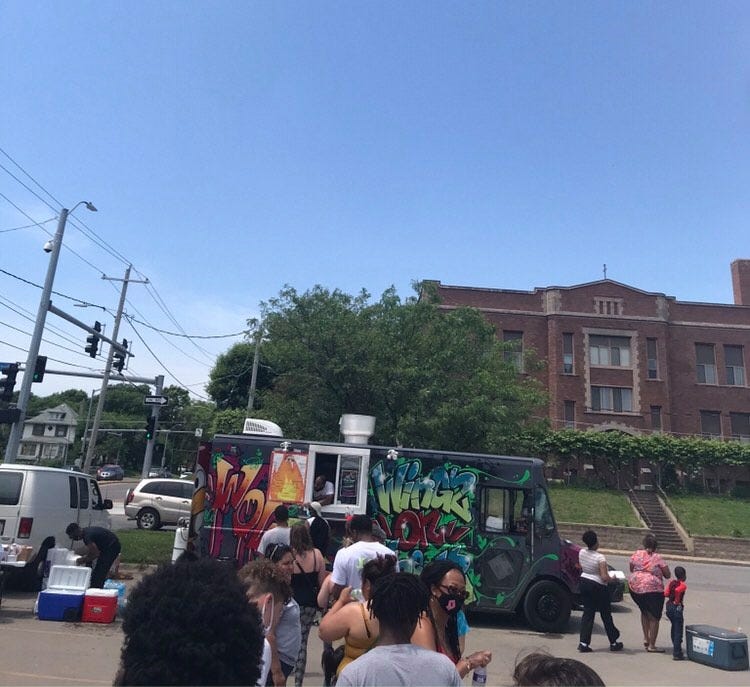 The line for a free meal at Wingz on Wheelz (2020)
One of Des Moines' greatest culinary centers is the parking lot of the Advanced Auto Parts off of University Avenue in the King Irving neighborhood. 
This isn't a knock on any of the other neighborhoods. Lord knows there's great food to be found in abundance throughout the north, east, and south sides and even a few gems among the downtown "New American" glut. When you've got the cash, any one of the handful of restaurants annually battling it out for a James Beard Award nomination can be worth a visit. 
But the Advanced Auto Parts parking lot off of University is home to not one but two great north-west side eateries. They also happen to have wheels attached to them. One is the ever reliable Tacos Degollado, where, for an extremely reasonable amount of money, you can purchase a few fresh tacos, still warm in their tortillas.
Since August 2017, the parking lot has also been home to Wingz on Wheelz. Wingz is listed among the too-small number of Black-owned restaurants and Black-owned businesses in Des Moines, businesses that have received some deserved attention recently as a very white city has been made to confront the racial inequity embedded within every aspect of its civic life. But I would also like to humbly assert that Wingz on Wheelz should be considered one of the best restaurants in the city and should be favored in any discussion around who serves the best chicken wings and fried food in town.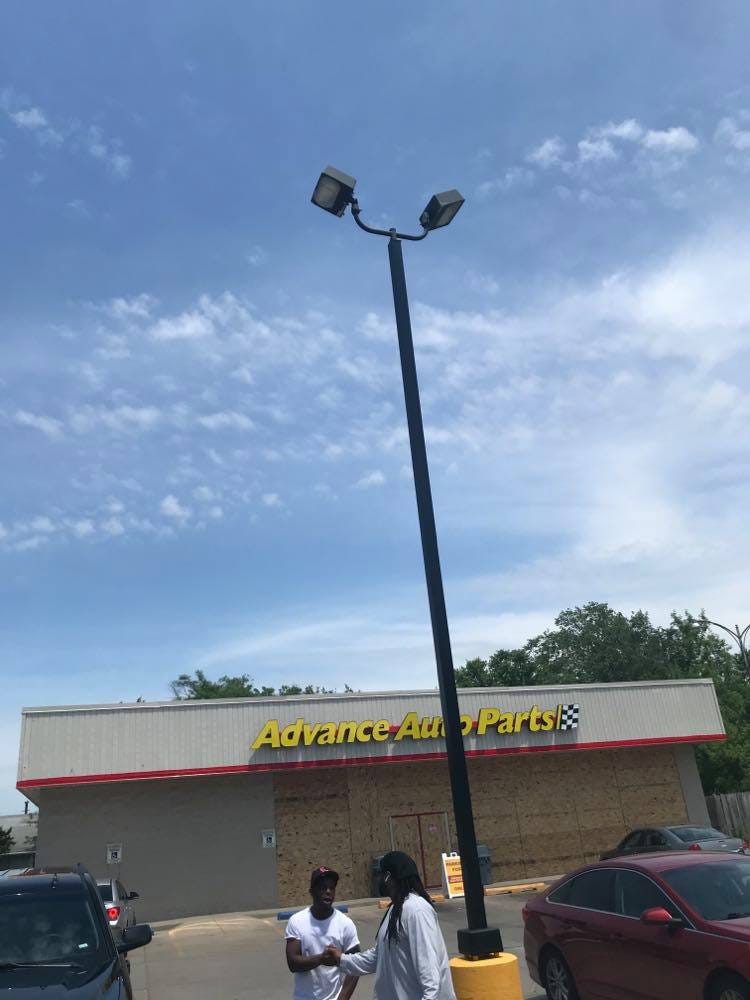 The Advanced Auto Parts on University Avenue in Des Moines, IA (2020)
It's hard to believe that the visually exclamatory Wingz on Wheelz truck (painted in a popping graffiti style by the Des Moines artist Joe "Mode" Adams) was once an empty white van when it was picked up and transformed by Sierrah Kittrell, who co-owns the food truck with her boyfriend Terrance Chapman. A life-long Des Moinesian, Kittrell currently resides in the Drake neighborhood, though she's in the process of moving back to the nearby Merle Hay neighborhood where she grew up.
"Our theme is we're serving you wings and we're serving them up quick," Kittrell said in a phone interview. "You can come to Wingz on Wheelz and get restaurant quality food at a quicker pace. We want to try to keep that vibe, it's kind of where the Wingz on Wheelz name originated."
If you, like me, are someone with a tender and embattled region of the heart devoted to chicken wings and consumes them on a regular basis, you'll recognize that Wingz on Wheelz's wings are clearly of superior quality. The drums and flats appear at first a little small compared to what you might find at nation-wide franchises like Wing Stop or Buffalo Wild Wings, something I see as a reassuring indication that Wingz on Wheelz uses the limbs of chickens that are less than the largest industrial size available. There are 16 flavors of wings available, all of them compelling. I can personally attest for the lemon pepper, mango habanero, Caribbean jerk (my favorite). Even the mild base seasoning is remarkable, their buffalo sauce containing a bit more depth and nuance than most of the store bought stuff.
Wingz on Wheelz brings this excellence of flavor and material quality to every aspect of their menu, which goes far beyond wings. The catfish for their catfish filet is sourced from down south, special ordered. The shrimp is peeled, breaded, and seasoned in-house. Their signature "W.O.W." burger takes its name from the spicy homemade barbecue sauce applied to their grilled cheeseburger. According to Kittrell, devoted fans of their fried chicken "gizzardz" drive into Des Moines from over an hour away.
"It's not always the most healthy option, but it is the most comforting," Kittrell said. "People like that they can come to one place and enjoy a variety."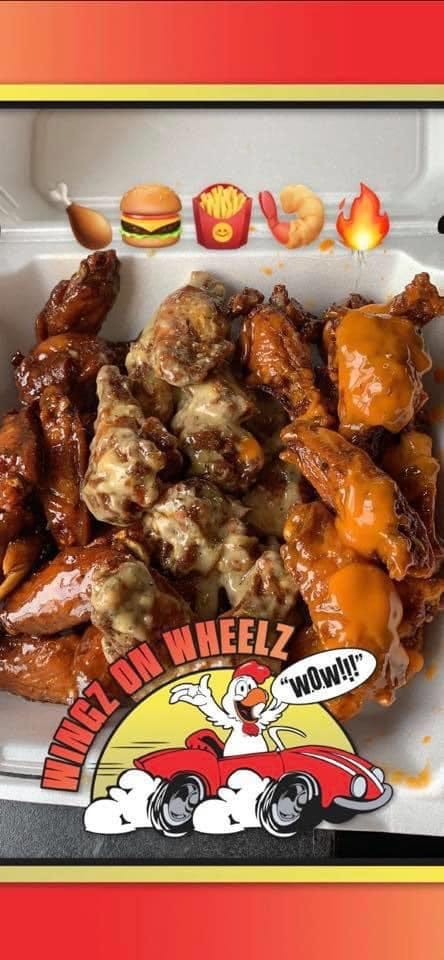 From the Wingz on Wheelz Facebook page (2020)
The road to Wingz on Wheelz was not an easy one for Kittrell. Like all Black business owners in Des Moines, she has faced the deeply entrenched racism endemic to the city. She cut her teeth in the foodservice industry at the fast-casual franchise Chipotle, where she worked six years as a manager. Now she owns her own business, one that's successful and growing. 
"We have faced many obstacles," Kittrell said. "My whole thing is, when I see a problem, instead of focusing on the problem I try to focus on a solution. For all the obstacles we have faced or for the majority of the obstacles we have faced as a Black-run business in Des Moines, Iowa, we've been able to find a solution for the majority of the obstacles we've encountered thus far."
On a Saturday in early June, amid the backdrop of a surging Black Lives Matter movement in Des Moines, cars filled the Advanced Auto Parts parking lot and spilled over into a nearby lot across the road. With logistical assistance and monetary support from Rob Johnson, a politically active pastor at Corinthian Baptist Church, and the the manager of the Advanced Auto Parts who's lot they park in, Wingz on Wheelz had announced the meal giveaway with just days to put it together. Donations from the community helped make the food go even farther, with many people stopping by just to donate the cost of a few more meals. The food truck ended up feeding approximately 500 people free of charge. 
"I wanted to show the community that we could host an event that welcomes all people," Kittrell said. "That was our goal, to give back to the community by providing free meals. There were many people in the community who were maybe not able to go protest because they had to work and for other reasons, but they were still able to help by dropping off a donation to provide additional meals for people." 
I dropped by that day to grab some wings and left a donation so someone else could get a free meal. There was, in the moment, a glimpse of the possibilities a different world could offer. A world where access to food is not dependent on the money in your pocket or your employment status. Maybe even a sustained system of mutual aid instead of a single-day charity event. A more equitable world where community is not limited by the traditional boundaries of what is or is not considered possible, from what it costs to eat to what it means to live in a neighborhood, in a city. It wasn't the healthiest food, but it was very comforting.
Wingz on Wheelz announced a brief hiatus on Tuesday and plan to return to the Advanced Auto Parts parking lot off of University Avenue in Des Moines on July 8. A second Wingz on Wheelz truck will open sometime in July at a to-be-revealed location. Fifty-cent Wing Day is on Wednesday.